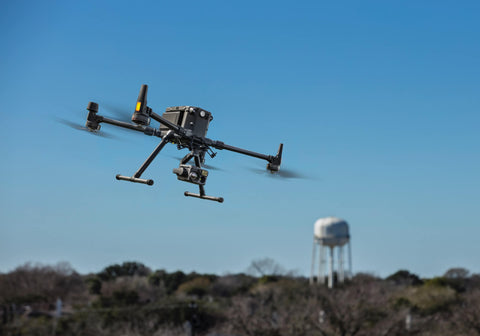 Introducing the new standard for the commercial drone industry, DJI's Matrice 300 takes inspiration from modern aviation systems.
Matrice 300 Features
With up to 55 minutes of flight time, advanced AI capabilities, and 6 Directional Sensing and Positioning, the Matrice 300 RTK combines intelligence with performance and reliability. The list of other Matrice 300 features includes: 15km (~9 miles or ~49,000ft) transmission range, Primary Flight Display, IP45 rating, -20°C to 50°C (-4°F to 122°F) operating temperature, hot-swappable battery, and UAV Health Management System.The all-new OcuSync Enterprise transmission system supports triple-channel 1080p video. Real-time auto-switching between 2.4 GHz and 5.8 GHz4 enables more reliable flight near high-interference environments, while AES-256 encryption offers secure data transmission. The Matrice 300 also allows you to mount up to 3 payloads simultaneously, with a maximum payload capacity of 2.7 kg (~6lbs).
Matrice 300 Performance
The Matrice 300's refined airframe and propulsion system design offers 7m/s (~23ft/s) max descend speed, 7,000m (~23,000ft) service ceiling, 15m/s (~49ft/s) wind resistance, and 23 m/s (~75ft/s or ~51mph) max speed.
For a full list of specs, features, and more, click here.